Ladies Bible Study
New study begins Tuesday, October 30 at 9:30 AM in Room #112.

The Study of Ruth: Loss, Love & Legacy by Kelly Minter

From the author: "Ruth is a women's Bible study of Ruth's journey of unbearable loss, redeeming love, and divine legacy. This study delves into the virtuous character of Ruth, her unique relationship with her mother-in-law- Naomi, and her blossoming love with Boaz. If you've ever felt devastated, struggled as a stranger, longed to be loved, or wept along the way, you'll find a loyal sister in Ruth."



…when we acknowledge God's supreme role in our life and set our mind on Him, He enables us to be women of hope. ~ Elizabeth George

We will never be happy until we make God the source of our fulfillment and the answer to our longings. He is the only one who should have power over our souls. ~ Stormie Omartian


Proverbs 31:26 – She opens her mouth with wisdom, and the teaching of kindness is on her tongue.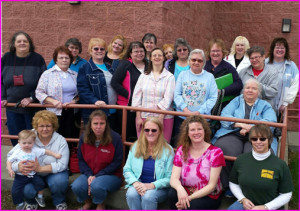 .
*No meetings during the summer months
*If school is delayed or canceled, Ladies Bible Study is automatically canceled.
Updated October, 2018