Who We Are
Punxsutawney Alliance Church
The Purpose Statement:
The purpose of Punxsutawney Alliance Church is to bring all people into a personal relationship with the Lord Jesus Christ, continually teaching them to be effective, loving, mature, and productive Christians for the glory of God.
The Vision of Punxsutawney Alliance Church:
We believe God is calling us to be a people passionately in love with and devoted to our Lord, each other, and our neighbors.
Our response will be to:
-Worship God corporately and individually, from our hearts and in our lives….
-Advance with Spirit-led boldness to move past the limits of the status quo….
-Disciple believers from rebirth to spiritual maturity….
-Present the Gospel to unbelievers using the most effective and culturally-relevant methods possible.
-Develop a ministry environment that allows, stimulates and challenges each of us to grow to our full potential in Christ….
-Provide ministry programs which are purposeful, exciting, and pursued with excellence….
-Cultivate global hearts to motivate people and provide resources for ministry at home and around the world….
-Build relationships with one another which are authentic, accountable, open and loving….
This Purpose Statement and Vision, together with Scripture and prayer, serve as the guiding principles for all decisions of the church leadership.
.
Our Story
We can mark the beginning by several series of tent meetings. The first was held in the area of the now existing Greystone Court Villas; the second series was held behind the Kuntz Lumber Company on Elk Street. For a few years a small group met in homes and held special services at the Salvation Army.
The congregation was organized in the spring of 1929. Property had already been purchased on Cypress Street on July 18, 1928. Rev. McTavish, who pastored in Indiana, led the construction of the building.
The construction cost was only $1,750.00 due to the donation of much of the materials and labor and the securing of a building from a glass company location in the Elk Run area. The cornerstone was laid December 16, 1929. The building was unfinished both inside and outside. A pot-bellied stove was the first source of heat. During the next few years the people worked to improve the building. The outside was covered, the inside plastered and painted – cost $250.00. The debt was paid off and a parsonage was bought.
Over the years the congregation grew; ministers came and went, a parking lot was bought. The church had a fire in November 1950 which caused little damage. In 1956, an adjacent house was bought for a Sunday School Annex. A new parsonage was bought in 1965 on Woodland Avenue.
On September 25, 1967, the congregation voted to relocate on land bought from Taylor North on Route 436. Ground breaking ceremonies were held on April 13, 1969, and a dedication service was held May 31, 1970. The cost was $150,000.
In 1973, the old property, which had been used as a Fellowship Hall was sold. Plans were approved on June 2, 1976 to build a new Fellowship Hall at the cost of $128,500.00. Ground was broken on July 11, 1976 and the new building dedication was December 4, 1977. At this time, the cornerstone from the first church was moved to the entrance of the new Fellowship Hall.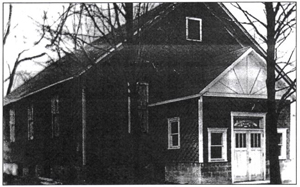 .
Core Values
As the People of God, We Recognize That:
God loves lost people, and He wants them found. (Luke 19:10)
Glorifying God through a lifestyle of worship is our primary purpose. Loving God and loving people is our primary pursuit. (John 4:23)
Prayer is our primary privilege. (John 15:5)
Everything we have belongs to the Father, and we are only stewards. (I Chronicles 29:14)
God's Family grows best in community. (Acts 2:42)
To achieve God's purposes, we must take faith-filled risks. (Hebrews 11:8)
Our primary ministry task is to develop disciples who will impact the world around them. (Ephesians 4:12-13)
Knowing and obeying God's word is fundamental to all success in life. (II Timothy 3:16)
.
The Alliance
pray.
The Alliance believes wholeheartedly in the power and necessity of prayer. We cannot "Live the Call Together" unless prayer is central to all we do – in our denomination, in our churches, and in our individual lives.
give.
You can help build Christ's Church around the world by donating online to the
. This central funding vehicle allows our international workers to focus on ministry rather than raising financial support.
serve.
Is God calling you to full-time service? Do you want to participate in a short-term missions trip and experience missions work firsthand? We're here to help you connect your passion with God's purpose.
Visit the Alliance Website to view our Statement of Faith.